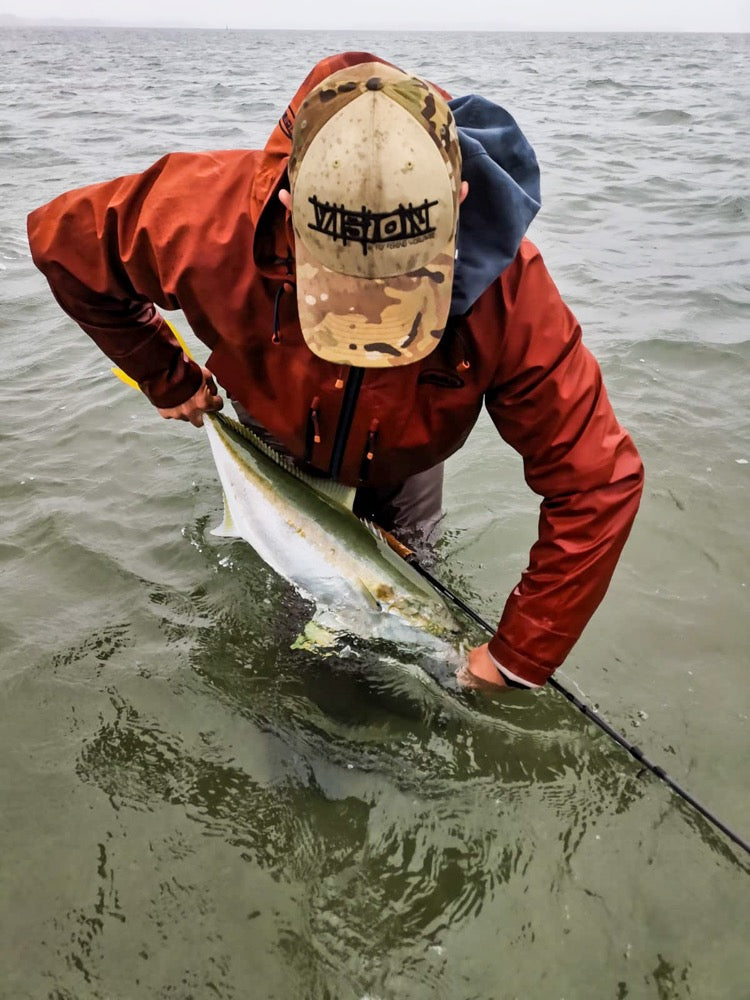 My Diary from Down Under is a true story of turning the biggest and wildest fly fishing dreams into a reality. It is Martin's diary how he chose to live one and half year through his fly rods in New Zealand and Australia.
This diary will take you from New Zealand's backcountry to Cocos Keeling Islands and many more places. So stay tuned and stay with us.
Text and photos: Martin Dvořák
The story really starts already from 2018 when I first time got chance to experience the magic of New Zealand. New Zealand is a dream country for all trout bums. I was lucky enough to spent more than a year there on working&holiday and tourists visas in 2018/2019. I've spent most of the time on North Island but did also a few months on the South Island. During these 15 months I've spent over 200 days on the water and caught some big trout and saltwater predators. Fishing really amazed me so I knew I will go back as soon as possible and not only once.
Unfortunately COVID -19  stopped all traveling so I had to wait longer than I expected. Australia was also on my bucket list for a long time and there was an option to get Work&Hokiday visa. This type of visa is available for young people until 30 years old. It was very complicated with the world wide spread pandemic but I managed to sent my application few days before I turned my 31st birthday in November 2021. Because of the covid-19 it took 15 months to get the result but finally I got the confirmation in February 2022. Absolutely unexpected but made me very happy and I couldn't wait to go traveling and exploring again.

Memories from 2018/2019 visit to New Zealand. Totally hooked...
So I finished my work in Czech and started planning my year in Australia. When looking for a ticket I realized it would be cool to go through New Zealand, visit old friends and of course do some fishing. I contacted my good friend Tomáš aka Mammoth who's living in town Taupo on North Island of NZ. He liked my idea so I booked the flight for beginning of November. Also booked I flight from Auckland to Sydney. I didn't really know where I wanna start in Australia and what I gonna do.
Even if it sounds very difficult to pack for one year into a 23 kg bag and 10 kg carryon it's actually the same like going for a few weeks fishing trip. I just needed to cover all fishing from NZ rivers to heavy saltwater fishing in Australia so I ended up packing 6 rods with me: 10' 4wt XO, 9' 6wt Onki and 9'3" 6wt XO Graphene for freshwater fishing and 9' 9wt Meri, 9' 9wt Merisuola and 9' 12wt Merisuola Graphene for saltwater. Tied many flies from tiny trout nymphs to big 6/0 GT streamers. Prepared my clothing mostly for hot Australian climate but also add some extra layers and rain jacket just for case. Based on my previous trips I tried to pack just things I'll really need.
I finished my job, left my flat, made goodbye party and counted last few days in Europe. Also checked all covid rules for traveling. Everything seemed to be great and I couldn't wait to be in the road again. The traveling day finally came and I tried to make my check in in the morning. The process required visa number. I quickly realized I'm in trouble. NZ changed their policy of issuing tourists visa and you have to apply for them online instead of getting them on the Auckland airport how it used to be. Long story short: I missed my flight, had to buy another one, more expensive and with multiple stopovers. It took me almost 50 hours to get from Prague to Auckland (the original flight was 26). I arrived to the NZ at November 14th of 2022. With all the bad luck, the weather was unusually rainy. November should be beginning of the summer with nice and warm weather but no, it was pouring down almost every day. All rivers went high and dirty so my backcountry plans were gone.
But with New Zealand there is always some other opportunities to fish so you should never give up. Furthermore I got some jobs from my ex boss so I could combine fishing with work and wait for some decent weather. In the end I stayed in New Zealand 9 weeks instead of 2 and fished them all. Backcountry rivers, overnight trips, lake fishing, saltwater from the boat, saltwater wading on flats….. I didn't really made any goals or plans what I wanna catch or do, but got almost everything what you can ask for. Double digit trout, big browns&rainbows and even some kingfish. I never regret I missed that flight and had to change my plans completely. Sometimes, it's better just let it flow and see what will happen. And I will tell you more what happened in the next chapters of my diary.
-Martin
Name:  Martin Dvořák
From: Czech Republic
Age: 33 years
Background: Lost heart for fly fishing since age of 10. Packed my bags and left to Australia and New Zealand to fly fishing for a year.